This simple Chia Pudding is made with almond milk, chia seeds, honey or sweetener of choice and Curcumall; It can be used as a healthy snack or breakfast and it is loaded with fiber, protein and anti-inflammatory properties from the Curcumall.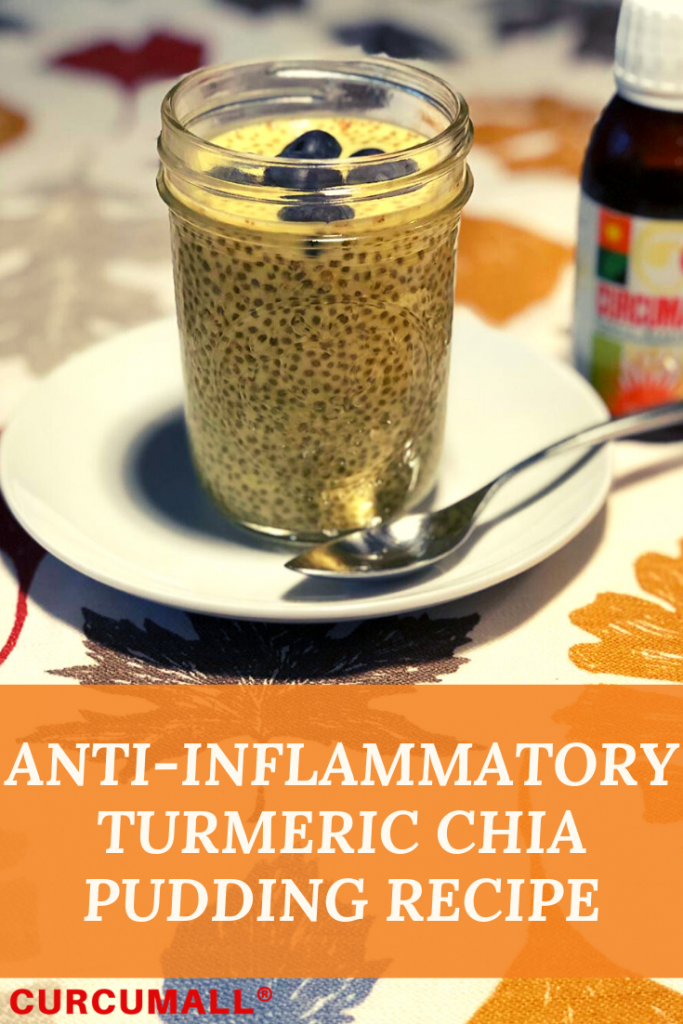 Chia seeds are among the best superfoods available. By superfood I mean food that has incredible amount of nutrients ratio to its size (and chia seeds are really tiny).
One ounce of chia seeds (which is about two tablespoons) contains 11 grams of fiber, 4 grams of protein and 5 grams of omega-3 fatty acids as well as a lot of great minerals like calcium and magnesium.
Other ingredient of this pudding recipe is Curcumall which is a liquid extract of turmeric/ curcumin and ginger. It allows the body to absorb the curcumin in an optimal way in order for the body to benefit from it's anti-inflammatory, antioxidant and anti-microbial properties.
This pudding recipe is super easy and you can prepare it a day ahead for a nutritious breakfast or as a middle of the day snack.
---
Turmeric Chia Pudding Recipe – 1 serving
Ingredients
3/4 cup almond milk or other milk of your choice
1 teaspoon of honey or other sweetener of choice
3 tablespoons chia seeds
1 teaspoon of Curcumall
Instructions
Time needed: 5 minutes.
It takes less than 5 minutes to prepare this great pudding, but it needs to stay in the fridge for at least 4 hours. You can prepare it in the evening before, keep it in the fridge and eat it for breakfast- that's the way I prefer to do it.
Mix together the milk and sweetener in a small jar

Add the chia seeds and mix to combine

After you add the chia seeds, mix them with the milk and then let settle for 2 minutes then mix again.

Cover and refrigerate overnight, or at least 4 hours.

The recipe should achieve a pudding-like consistency.

Optional- add toppings and serve!

When you are ready to eat, you can add toppings like strawberries, blueberries or any other fruit you like as well as granola or some nuts.
You can keep it covered in the fridge for 4 day, but it is best to eat it fresh.
---
What is Curcumall?
Curcumall® is an all-natural liquid herbal supplement of turmeric extract, curcumin and ginger extract. It was developed over the course of seven years by scientists in the health and medical research fields to harness the health-giving properties of curcumin without the problem of stomach upset and with improved absorption.
Typically, curcumin is poorly absorbed into the bloodstream through the digestive tract. Curcumall® is more readily absorbed than most available curcumin products due to its extraction process and liquid form. This technologically advanced formula delivers more curcumin to the blood while optimizing its efficacy.
Every teaspoon of Curcumall® contains about 500 mg of curcumin and it is great to cook with. Check out our other recipes here for an easy way to incorporate curcumin into your daily menu.