Are you a health care professional? Add Curcumall to your practice to help your patients achieve better health with the optimal benefits of turmeric and curcumin.
Why Curcumall ® ?
Curcumall's bioavailability
Taking an absorbable curcumin supplement will for sure make a difference. But not all supplements are created equal. Many of the curcumin products offered on the market have a low bioavailability meaning that these supplements cannot deliver a significant amount of curcumin to the body organs as the rate of absorption from the intestine to the blood is poor.
Curcumall®, The liquid turmeric extract with balanced curcuminoids and high concentration of curcumin and turmeric, has been shown to give remarkable results.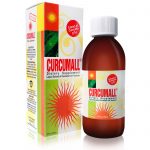 Curcumall at a glance
TURMERIC / CURCUMIN C3 CONCENTRATED EXTRACT – Each serving contains 500mg of active patented curcuminoids and turmeric root extract.
THE LIQUID ADVANTAGE – Aside from being easier to consume, liquid may also have a comparatively higher absorption rate when compared to supplements in solid form. Combining high quality ingredients with a higher absorption rate is what we like to refer to as the "Liquid Advantage."
NON GMO – Vegan/vegetarian friendly. Natural flavoring with NO gluten, soy, sugar, milk, yeast, salt, or wheat. No unnecessary fillers are used.
NO PIPERINE – Curcumall was shown to be well absorbed without piperine. Piperine may cause discomfort in the intestine.
MADE IN AN FDA REGISTERED FACILITY – Our Turmeric /Curcumin C3 Liquid is made in a GMP inspected facility that is registered at the FDA
CURCUMALL has been authorized by the Health Authorities of Canada, Mexico, Italy, Turkey and Israel. It is now selling in those countries and in the US.
HIGH BIOAVAILABILITY: The liquid form offers optimal absorption in the body. Curcumall has a fast absorbing, effective and powerful formula!
Health Care Professionals Recommend Curcumall ®
Get Started
Contact us with the form below to start setting up a health care professional account after which you can start ordering Curcumall at wholesale price to be sold in your practice. Alternatively, ask us about our direct shipping plan.