Curcumin, the active ingredient of turmeric, has anti-inflammatory, antioxidant and antidepressant properties. It also has neurotrophic effects, suggesting a strong potential to manage conditions associated with neurodegeneration, such as psychiatric disorders.
There is growing research evidence that curcumin has the potential to effectively assist in treating psychiatric disorders like bipolar disorder and depression.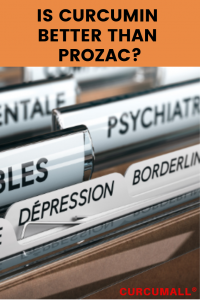 Curcumin is great natural antidepressant that can also alleviate anxiety
A study carried out by researchers at Australia's Murdoch University found that curcumin extracts reduced anxiety and depression scores. They noted that it was particularly effective at alleviating anxiety.
Moreover, even low doses of the curcumin extract were effective in addressing depression.
In addition, the researchers found it worked quite well on those with atypical depression, which is a marker of bipolar depression.
Curcumin was found to be as effective antidepressant as Prozac
Curcumin has been found in other studies to be just as effective as Prozac but without the unpleasant side-effects.
It works by raising levels of dopamine and serotonin, two vital neurotransmitters related to depression.
In addition, because depression is believed to be caused by chronic inflammation, it makes sense that curcumin's ability to reduce inflammation could alleviate depression. Read more about how curcumin reduces inflammation here.
It's worth noting that curcumin can be taken alongside antidepressants safely; studies have even shown taking the two together can enhance their effectiveness. However, it's important to keep in mind that antidepressants carry a lot of risks, so it's worth exploring whether curcumin alone could be enough to alleviate an individual's depression.
Curcumin can help those suffering from MDD
Studies have also found that curcumin reduces the symptoms of anxiety and depression in those suffering from a major depressive disorder (MDD). It was also shown that curcumin can reduce fatigue, stress, and anxiety in those with extreme occupational stress.
Curcumin can also help obsessive-compulsive disorder
Curcumin supplementation has also been shown to significantly improve compulsiveness and memory loss in those with obsessive-compulsive disorder.
Curcumin is great in improving mood and memory
Curcumin is a natural compound with multi-faceted pharmacological properties, interacting with several neurotransmitter systems and intracellular signaling pathways involved in mood regulation.
The idea of curcumin helping with mood is supported by a study that was published in the American Journal of Geriatric Psychiatry earlier this year. In that study, researchers found that participants who took curcumin supplements noted mood improvements, and they plan to explore this connection in a study of patients with depression. The researchers expressed optimism that curcumin could be a safe way to provide people with cognitive benefits; they also discovered that it can improve memory.
How can I get good quality of curcumin?
Curcumall® is an all-natural herbal supplement developed over the course of seven years by scientists in the health and medical research fields to harness the health-giving properties of curcumin without the problem of stomach upset and with improved absorption.
Typically, curcumin is poorly absorbed into the bloodstream through the digestive tract. Curcumall® is more readily absorbed than most available curcumin products due to its extraction process and liquid form. This technologically advanced formula delivers more curcumin to the blood while optimizing its efficacy.
Most Curcumin products include piperine, an extract of black pepper that is added to enhance the absorption of Curcumin. Turmeric supplements using piperine may cause problems with pharmaceutical medications, and people who take Curcumin supplements containing piperine, have complained about gastrointestinal upset caused by the piperine. Curcumall® doesn't contain piperine while offering high absorption of Curcumin.
Tip: If you want to use good quality curcumin/ turmeric as a natural antidepressant, to alleviate anxiety, improve your mood and memory or benefit from the other health-giving properties of it, take Curcumall® twice daily.
Curcumall® has no side effects. You can even use it in cooking. Check out our recipes here for an easy way to incorporate curcumin into your menu.
Suggested Use: Twice daily, mix 1-2 teaspoons of Curcumall® liquid curcumin in a glass of water and drink on an empty stomach (half an hour before a meal, or two hours after a meal).
Sources:
Lopresti, A.L., Maes, M., Maker, G.L., Hood, S.D. and Drummond, P.D., 2014. Curcumin for the treatment of major depression: a randomised, double-blind, placebo controlled study. Journal of affective disorders, 167, pp.368-375.
Sanmukhani, J., Satodia, V., Trivedi, J., Patel, T., Tiwari, D., Panchal, B., Goel, A. and Tripathi, C.B., 2014. Efficacy and safety of curcumin in major depressive disorder: a randomized controlled trial. Phytotherapy research, 28(4), pp.579-585.
Zafir, A. and Banu, N., 2007. Antioxidant potential of fluoxetine in comparison to Curcuma longa in restraint-stressed rats. European Journal of Pharmacology, 572(1), pp.23-31.
Kaufmann, F.N., Gazal, M., Bastos, C.R., Kaster, M.P. and Ghisleni, G., 2016. Curcumin in depressive disorders: an overview of potential mechanisms, preclinical and clinical findings. European journal of pharmacology, 784, pp.192-198.
Small, G.W., Siddarth, P., Li, Z., Miller, K.J., Ercoli, L., Emerson, N.D., Martinez, J., Wong, K.P., Liu, J., Merrill, D.A. and Chen, S.T., 2018. Memory and brain amyloid and tau effects of a bioavailable form of curcumin in non-demented adults: a double-blind, placebo-controlled 18-month trial. The American Journal of Geriatric Psychiatry, 26(3), pp.266-277.